There are hundreds of variations of Czech pastries, and sometimes it is hard to choose which one to try this time. In fact, some pastries are better to eat at breakfast, others at dinner. That is why we created our list with the best sweets that you can find in the Czech Republic.
Koláče
One of the Czech secret gems you can find in any grocery store, shopping mall, or even bakery. Its name has an interesting origin – it comes from the word 'kola' that can be translated to the 'wheel.' Even though its size can be compared to the size of the average cookie. The reason for this name was simple – it has a round shape. In the 1700s, it was associated with the sun and the moon as it was a ritual food in the Czech Republic.
Koláč is a pastry that consists of soft dough and various delicious fillings. Usually, the dough is made from slightly salty yeasted dough, making them look cloudy and attractive. The most popular fillings are poppy seeds, plums or plum jam, and cottage cheese.
In Prague, there is a bakery, Perníčkův Sen, which emphasizes its production on the different shapes and flavors of koláče. To get there, go to the Dlouhá třída tram station, and walk approximately 2-3 minutes to the bakery shop.
Buchty
Another traditional Czech pastry that became popular in numerous countries such as Austria, Croatia, and Slovenia. It is a small golden-brown bun filled with homemade jams or preservatives. Generally, they grow in size and stick to each other when baked. By that, they create a unique and unforgettable image of the traditional pastry.
Buchty consists of yeast dough with a special sweet filling. Furthermore, people add some unique ingredients to make the dough light and soft—for instance, butter with vanilla or citrus flavors.
In Prague, the best place to eat buchty is Antonínovo Pekarství, one of the best local bakeries. Their outlets are located all over the city, and you can find there more traditional Czechs treats.
Ovocné knedliíky
Sweet and fruity dumplings are our last traditional variation of Czech pastries. The sweet fillings differ from time to time: you can taste apricots, strawberries, plums, or blueberries. Interestingly, in some places, you can find salty dumplings with fillings of some vegetables.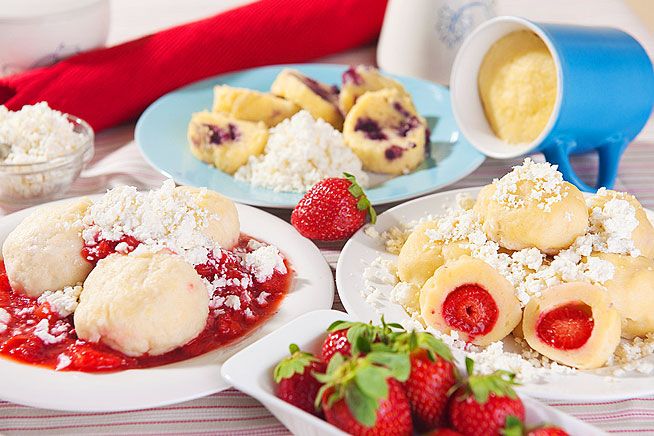 In most cases, knedliíky are made from potato or leavened dough with the perfect combination of wheat flour and quark cheese. They are cooked in boiling water for a short time and served hot. Sometimes, doused in butter, sprinkled with sugar and cheese.
To try ovocné knedliíky in Prague, you can go to the Knedlin. This café is dedicated to the distribution of this pastry. There, you can also find some salty and sour knedliíky, not only sweet ones. To get there, go to the Národní třída tram station, and walk for 3 minutes.